This year's Christmas has become even merrier for the 14,000 barangay workers of Cebu Province as they received their increased cash gift from the Cebu Provincial Government today, December 18, 2019.
Barangay health workers (BHW), animal health aides (BAHA), nutrition scholars (BNS) and day care workers (BDCW) filled the Minglanilla Sports Complex for their first-ever general assembly since Governor Gwendolyn Garcia returned to the Capitol.
From P2,400, each barangay worker received P4,000 cash gift, Noche Buena goodies, new shirt uniforms, and healthy kits.
They are also covered under the Government Service Insurance System (GSIS) group accident insurance worth P50,000.
"Ilang kalauman nga samtang ania pa si Gwen Garcia, kadtong ilang naandan nga pagpangga og paghatag og bili sa ilang dako kayo nga tabang sa probinsya sa Sugbo ila gayod kanang matagamtam. Sugod palang ni sa unang unom ka buwan sa atong pagbalik. Ako gayod gituman ang akong saad," the governor said in an interview.
Rosalyn Diana, 32, a BHW of Barangay Capitan Claudio in Toledo City expressed her gratitude to the provincial government especially to Garcia for the gifts.
The gifts they received, she said, is timely for their Noche Buena on December 25.
The barangay workers warmly welcomed Garcia's arrival who they missed for six years after her three-term gubernatorial stint ended in 2013.
Garcia shared that she never thought she'll stand before them again because she was entertaining the idea of running for a third term as congresswoman in the third district.
"Apan kinsa gayud ang magtuo nga mahitabo kining buntaga karon, nga kita magkakuyog na usab dinhi mismo sa Minglanilla Sports Complex og si Gwen Garcia ang gobernador nga nagpangga kaninyo, nga naghatag og pagtagad og balor sa inyung mga trabaho nga mi sabot sa dako kaayo ninyo nga kontribusyon alang sa probinsya sa matad sa kahimsog og panglawas," she said.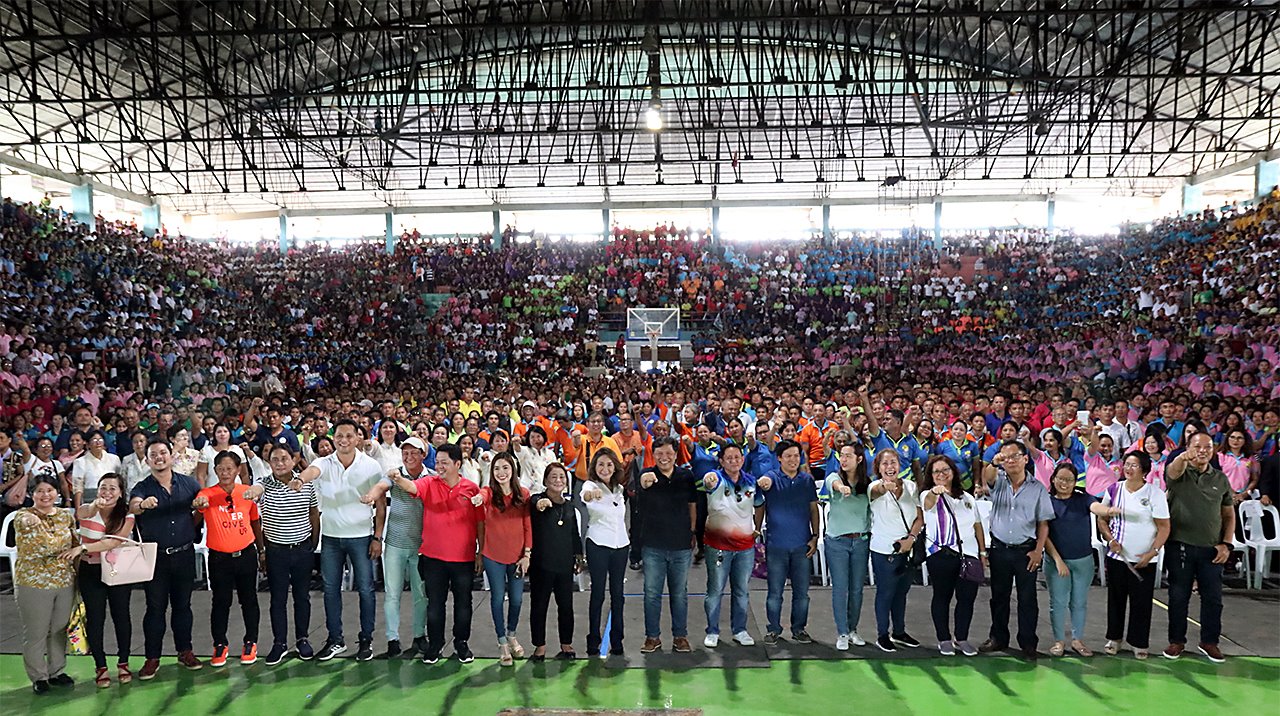 It was the first gathering of the barangay health workers from all over the province since Gov. Gwen Garcia assumed office as 'Governor again' this year. (Photo: Junjie Mendoza)
Thankful for their help to the Cebuanos, Garcia assured the barangay workers they will be taken care of.
"Kini akong ipasalig kaninyo samtang si Gwen Garcia ang gobernador sa lalawigan sa Sugbo, inyung kasaligan nga dinha sa Kapitolyo dunay inahan nga kanunay magpangga, mag-amoma, magsapnay sa BHW, BNS, BAHA, and DCW. Permiro palang ni nga tuig. Sa musunod nga katuigan magtipon-tipon gihapon ta padung sa Pasko arun inyung madawat ang angay lamang nga pasalamat gikan sa Probinsya sa Sugbo," she stated.
During the assembly, the governor facilitated the oath-taking ceremony of the Association of Barangay Health Workers' new set of officers.
The officials then serenaded and gave roses to the governor. Another group of BHWs also showcased their talents.
Garcia and attending Provincial Board members joined in the fun as they danced to cha-cha while 2nd district PB member sang to the crowd.
The governor said another meeting will be set for the 20,000 barangay tanods of Cebu. However, their cash gift and tanod kits will be distributed to their respective LGUs within the month.